Detalles de evento
Fecha:
Viernes 14 Julio, 2023 10:00 pm
Ubicación:
Enjoy Santiago
Dirección:
Enjoy Santiago - KMT 53, Autop. Los Libertadores, Valparaiso, Chile
Waze | Google Maps
Información
Viernes 14 de Julio @the_yellowheads
Enjoy Stgo / 22:00 Hrs.
Artistas Locales Techno:
@leoforce_music b2b @esteban__zapata
@baus.music
Entradas y transporte en:
www.technoeventos.cl & PuntoTicket.
The YellowHeads
[ Reload | Senso | Terminal M ]
The YellowHeads fue formado por dos artistas que rápidamente descubrieron un denominador común clave que los une: una fuerte pasión por la música.
La fuerza de esta unión está en su sonido, que va desde la electronica mas atmosférica a un sonido techno con toques retro, y una técnica depurada en cabina
Sus lanzamientos han visto la luz en los sellos más grandes como: We Are The Brave, Kraftek,Terminal M,Filth On Acid, Suara, Octopus, Tronic, Intec, etc…
Su tema llamado "Planet X" es el tema Techno mas vendido y reproducido del año 2020 y 2021 con más de 4 meses TOP #1 y mas de 10 millones de reproducciones que le hace ser el tema de Techno mas escuchado de la historia de Spotify.
En 2020 The YellowHeads estuvieron en el Top 5 de artistas Techno, y su label Reload Records estuvo en el Top 10 de sellos Techno.
Invita: @redbullcl
---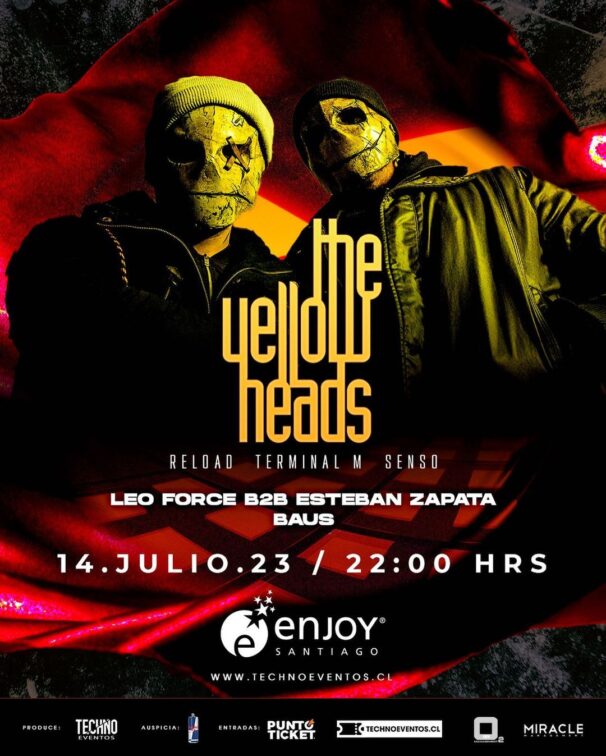 ---
Compra tus tickets en keyboard_arrow_down
---